Guardian Self Defense and Security Blog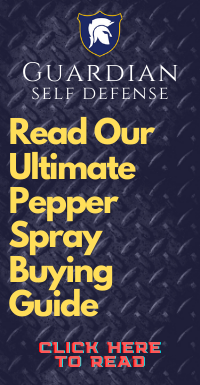 Vital Self Defense Product Bundle
If you're like me you like package deals or "bundles". Well Guardian Self Defense & Security Products has just created our first of many self defense product bundle. With this first product bundle I put together the essentials, the things that are vital and must have security products. I think these will make great gifts as well.
Self Defense Product Bundle #1
You get the Pepper Shot Pepper Spray Triple Pack. With this product you get three different pepper sprays. The 2 oz pepper spray stream unit is ideal for protecting the home. Then there is a 1/2 ounce auto visor model specially made for protection in your car. Carry the 1/2 ounce quick release key chain pepper spray with you for personal defense going to and from school or work. With this pepper spray triple pack you get premium OC pepper spray that is made in the USA. These are 2 million scoville heat unit defense sprays that you can rely on.
Next, how about a powerful cell stun gun? Yes, this stun gun looks and feels exactly like a camera phone. It does not make calls but does pack nearly a million volts of personal protection. THE PRETENDER 950,000 volt CELL PHONE STUN GUN comes with a bright built-in 12 LED flashlight and several safety features to prevent accidental firing. You get the batteries and holster for FREE.
Let's throw in a personal security alarm. The KC-45 key chain alarm is a powerful 125 decibel alarm and bright flashing light. It combines the two best attention grabbers, noise and light! This personal alarm has a hidden disarm switch so only you can deactivate it. You can use the flashlight with activating the alarm.
Our last product is a self defense book that teaches you everything you need to know about pepper spray and tear gas. Pepper spray is extremely effective and debilitating, but most people don't take the necessary time to practice and learn how to use it properly. This 32-page booklet reveals the secrets of: choosing a defense spray, how to carry your pepper spray, how to shoot it, what to do about multiple assailants, date rape protection, using defense sprays against guns and knives, home tactical use and much more about the realities of protecting yourself with defense sprays. We are really please with our first self defense product bundle and think you will be to. You can get more information and place an order at
http://www.guardian-self-defense.com/self_defense_pack.htm