Home
Guardian Self Defense and Security Blog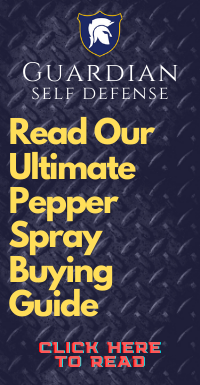 What are Pepper Spray Guns and How Do They Work? Although many people are aware that pepper spray exists, some do not know that pepper spray guns exist. They are a nice self-protection option for homes everywhere.    Benefits of Pepper Spray Guns Speed, Range and Safety With pepper spray guns, a round can travel around 300 feet per second. This is a very quick speed when you are trying to defend yourself or your home. The rounds can travel 150 feet or more for each round. This means that...

Here's a story about one of the best uses of pepper spray I have seen in a long time. This about a cab driver in Brookings, South Dakota who had a fare of three passengers. One of the passengers assaulted the driver then all three of them tried to take off. But the cabdriver had a surprise for them. He sprayed one of them with pepper spray-something he never forget. You can read the whole story HERE. Law enforcement authorities are still looking for the three. One of the best...

Here's an article from the National Domestic Violence Hotline on 10 things you may not know about sexual assault. Some of them may surprise you. They surprised me!! You can read the whole story HERE. Here's something else you may not know about sexual assault. Almost all of them can be prevented by using some kind of self defense product. Mace Pepper Gel is a good one to use because it small and very effective and like all Mace brand products are bench tested before packaging. Pepper gel holds up...