Guardian Self Defense and Security Blog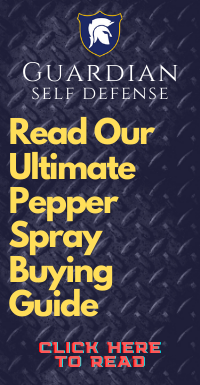 Bear Spray Repellent
It's that time of the year again, the weather is turning warmer and most of us are anxiously looking forward to spending time enjoying the 'great outdoors'. Fishing, camping, hiking and boating are just a few of the activities that millions of Americans look forward to during the summer months. This is also the time of year when bears become very active. As we plan our outdoor summer activities, it's important to realize that the possibility of encountering a bear is very real. Most encounters with bears do not include aggressive behavior or attack. In fact, most of the time once a bear identifies you as 'human' it will either ignore you or run away. There are a small percentage of bear encounters that do follow in a bear attack. For this reason, it is recommended that anyone doing anything in bear country be equipped with bear spray. Bear spray has been proven time and time again to be effective at deterring bear attacks. Many National Parks now require you to have a bear spray prior to allowing entrance into the park.
Bear spray
is non-lethal and does not cause any long term or permanent injury to the animals. It will however allow you to defend yourself from a distance of about 30 feet. Accuracy is not a worry as this fogger will take care of anything in its path. For more information on bear spray visit us at
Guardian Self Defense
.