Guardian Self Defense and Security Blog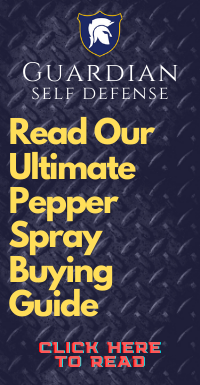 Dog Attacks-How To Defend Against Them
Dog attacks continue to be one of the most common problems that we are asked to advise about. We get more questions about dog attacks and dog bites and how to defend against them than practically any other topic. The number of dogs running around loose in the United States is amazing. Nearly 5,000,000 people are reported to have been involved in a dog attack. Many more go unreported.
Of that number close to 1 million of them have been hospitalized. I was one of them many years ago and still have fears of dogs running around loose when I'm in the area.
My friends and I walk just about every day around our neighborhood, and because of the business that I'm in, I am the self appointed protector of the group. I used to use it telescopic stun baton and was successful with when it was needed.
How To Defend Against Dog Attacks
But now I use the Mace Pepper Gun as shown here. It has the longest range of any self-defense product in the world-close to 25 feet. The replaceable cartridges hold enough pepper spray for seven shots of 25 feet each. So if you happen to miss on your first shot you have enough for six more shots.
We value any feedback on these posts you may have. Let us know your thoughts.
Since 2005 Guardian Self-Defense & Security Products LLC has provided personal security to over 45,000 consumers. We offer a full-line of premium self-defense weapons such as pepper spray, stun guns, tasers, pepper mace, personal alarms and other self-defense items.