Guardian Self Defense and Security Blog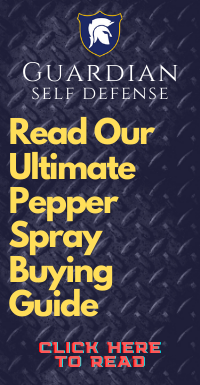 Less Than Lethal Self Defense Options That Work
Pepper Spray for Self Defense
We live in the United States of America, the greatest Country in the world. Our fundamental right to bear arms is protected by The Second Amendment. The decision to maintain a gun in the home for self defense is a serious matter. The most important responsibility is ensuring that children cannot encounter loaded firearms. Anything less invites tragedy. When it comes to self defense options millions choose to carry a handgun, however, many others are not comfortable owning a handgun and instead look to less than lethal options. The best less than lethal alternative for basic home and personal security is pepper spray.
Pepper spray, or oleoresin capsicum (OC), is used by law enforcement and corrections agencies across the United States to help subdue and arrest dangerous, combative, violent, or uncooperative subjects in a wide variety of scenarios. U.S. Department of Justice The Effectiveness and Safety of Pepper Spray
Professional law enforcement officers depend on pepper spray as a first line of defense because it works. The DOJ report referenced above conducted a 2 year study and found that when pepper spray was used there was a significant reduction in injuries to police officers from assaults, injuries to suspects from police use of force and excessive force complaints against the police. Pepper spray provides you with effective protection at a safe distance. The ability to stop an attacker from 10 feet away is a huge plus. Pepper spray is the most practical self protection product available. It's compact and convenient to carry just about anywhere. A small canister of pepper spray can provide protection against numerous threats. Most people don't realize it but pepper spray is legal to carry in all 50 states (a handful have restrictions). Pepper spray is the great equalizer allowing a small petite would be victim the ability to protect themselves against a much larger and stronger attacker. Visit us for more information and to view all our
pepper spray
offerings!