Guardian Self Defense and Security Blog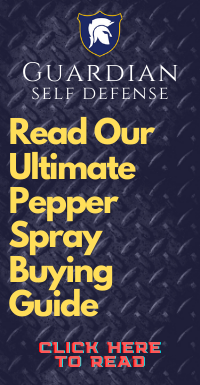 The Best Two Stun Flashlights
Stun devices are second only to pepper sprays in terms of overall popularity in a self-defense product field. Of all the different kinds of stun devices that there are, stun flashlights have rapidly become the most popular by far and here's why. Generally speaking, they are more powerful than their smaller non-flashlight counterparts. And maybe, more importantly, they serve a dual purpose of providing an effective self-defense product and an emergency light source. For that reason, it's the perfect product to carry in your car for your personal safety.
Here are the two best stun flashlights that we carry. The first one is a 7.5 million volt best in class certified
Touchdown Stun Flashlight
that has a rubber protective coating that covers the entire stun gun and ensures a great grip in any weather or climate. As with most stun devices these days it is rechargeable, which means you save money on batteries. It is a surprisingly light 6.5 ounces and is 6 inches tall, 2 inches wide and an inch in diameter. It has the popular disable pin that prevents the stun device from being taken and used against you. This may be the only stun flashlight that has this feature. It also has two levels of safety built-in to prevent accidental discharge. It comes with a no questions asked lifetime guarantee. The second one is from The Police Force by Streetwise, a relatively new entry into the stun device field. Their
Tactical Stun Flashlight
features a 200 lumen tactical flashlight and an 8,000,000 volt stun gun. It is made of type III aircraft grade aluminum alloy. The stun device has concealed inner stun technology, which means there are no probes that are exposed. The bezel is an emergency glass breaker. The on off switch prevents accidental discharge. It also has a rechargeable battery and comes with a lifetime manufacturer's warranty. The dimensions on this stun gun are 10.5" tall x 2" wide. One of the great features of any stun device is that once it's activated, it makes a loud hissing, crackling sound and displays an intimidating arc of electricity, which in most cases is enough to deter an attacker. If not, then the electric shock certainly will. A stun device can disable an assailant for as much is 10 minutes assuring your personal safety and giving you time to get away and seek help. They are not legal in all states, so check with your local police department or online before you get one.
Guardian Self-Defense & Security Products LLC
is one of the largest most trusted online distributors of non-lethal self-defense items and surveillance equipment in the US. We specialize in premium pepper spray, mace, personal alarms, stun batons and more. We are "The Self Defense Product Experts"!