Guardian Self Defense and Security Blog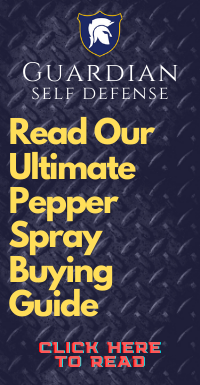 Civilian Sabre Defensive Sprays Are They The Best?
Sabre brand defensive sprays is a name that may not be familiar to you. One of the reasons for that may be because most of their customers are law enforcement organizations both in the United States and foreign countries. The United States Federal Bureau of Prisons, the NYPD, the Department of Defense, the New Zealand National Police, Scandinavian Police forces and other top organizations of law enforcers around the globe are all customers. The 39 year-old company's slogan is "making grown men cry since 1975." The family owned company specializes in pepper sprays and safety products. Their stated goal is to provide the safest and most effective personal pepper sprays. Civilian Sabre defensive sprays are the same ones that law enforcement officials buy. That should give you an indication of the effectiveness of the civilian Sabre defensive sprays. Are they the best? Let's take a look at why we think they might be. When you are in the market to purchase a defensive spray, you want the one that is the most effective-usually a measure of the hotness of the spray. The problem is almost everyone uses a different measure of hotness. Most companies use Scoville heat units or SHUs as a standard while others use a percentage of oleoresin capsicum. Those measurements are relative but can be misleading. Sabre brand defensive sprays are the only manufacturer that we know of that uses "major capsaicinoids as their standard for hotness. Major Capsaicinoids (MC) are the true heat bearing and pain producing components which measure the strength of the entire pepper spray formulation. The MCs are the only true measure of pepper spray pungency." Thus
civilian Sabre defensive sprays,
in our humble opinion, are the best for the simple reason that they are the hottest and come in a wide variety of disbursement methods including pepper gel and colors including pink which women love.