Guardian Self Defense and Security Blog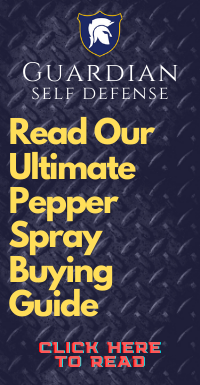 Inexpensive Ways Increase Personal Security
If your like me a top priority is your personal and home security. It's easy to overlook or to take things for granted. Usually our eyes are opened only after tragedy strikes a little too close to home. Our awareness and senses become peaked for about a month at most, and then we go back to life as normal. It doesn't take much money or effort to be proactive about your personal and home security 24/7 and 365. Here are a few things that will help to make you unattractive to criminals.
Purchase a "dummy" camera or fake surveillance camera. The cost of a dummy surveillance camera starts at about $10! They look just like the real thing and studies show they are ultra effective at deterring crime. When a criminal sees your surveillance camera, chances are they'll be moving on to someone who doesn't have one. The last thing they want is to see their snapshot on the nightly news.
Secure your main entry ways with a door security brace. They are cost effective and can strengthen your doors against forceful entry or home invasion. At about $15 per brace, you can greatly increase your home security and peace of mind.
After entry ways, windows are the next most likely area that criminals will target. Often they will break the window to gain access. A simple, yet highly effective glass breakage alarm will immediately alert you of trouble, while deterring the criminals entry.
Most of us leave for work early each morning only to return home after dark. In addition, we exercise outdoors at night which leaves us vulnerable to attack. A pepper spray product is effective way to protect your personal security. Non lethal, cheap and easy to use, their are all types of pepper spray to meet your specific needs.
So there you have it, 4 things you can do today that will increase your overall security and peace of mind.