Guardian Self Defense and Security Blog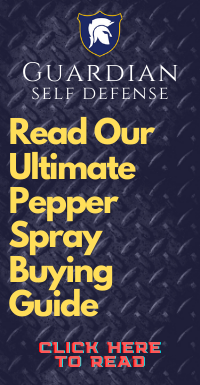 Most Effective Non-Lethal Self Defense Products For Women
There is a reason why self defense product manufacturers such as Mace, Taser International, Stun Master, Sabre and many others make products that appeal to women. You'll find just about every manufacturer makes pepper sprays or stun devices that come in many colors-pink is always one of them. They also make products that are lighter, smaller and easier to carry specifically for women. Why is that? Women are the targets of attacks in nine out of every 10 cases so they use a self defense product much more often than men. In this article we will discuss the most effective self defense products for women so you can see which ones women prefer for their personal safety and personal security based on their effectiveness. This Sabre
Stop Strap Spray
uses the famous Sabre Red formula with 2 million Scoville heat units and .67 major capsaicinoids concentration which is more than most sprays and which makes it hotter. The stop strap technology prevents the use of the spray if it is taken away from you. You place the stop strap safety device around your wrist and hold the unit in your hand. If the spray is separated from the strap in a confrontation, it will not spray. This is a safety feature women love. The second favorite self defense product for women is the
Expandable Steel Baton
that is 7 inches when it's closed and 16 inches when it's opened with a simple flick of the wrist. Once opened it locks into position. These are police grade steel batons that are descendants of the old wooden billy clubs police officers used to carry. Batons are an inexpensive, effective way to defend yourself against any kind of an assault. They can be used to strike or jab at an opponent with devastating results. If you've ever hit your shin on the bed post, you know the pain that we're talking about. And the third favorite self defense product is the tiny
SMACK Stun Gun
that has a key chain attachment. It is only 3 ½ inches tall and ¼ inches wide but is 5,000,000 volts of stopping power. It is a perfect marriage of technology and innovation, and as far as we know it's the only stun gun that has a key chain attachment. It has two levels of safety built-in and has a lifetime warranty which attests to its quality. Those are the top three most effective self-defense products for women for their personal safety and personal security.
Guardian Self-Defense & Security Products LLC
is one of the largest most trusted online distributors of non-lethal self-defense items and surveillance equipment in the US. We are "The Self Defense Product Experts"!