Guardian Self Defense and Security Blog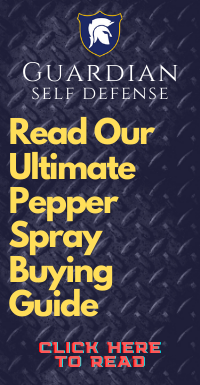 Pepper Spray Law In MA-Now Legal
"The Joint Committee on Public Safety and Homeland Security on June 7 gave a favorable report to H. 2145, An Act Relative to Non-lethal Self Defense Sprays, from the committee.
The bill removes a requirement that a person obtain a license in order to possess pepper spray.
Massachusetts is the only state in the nation that requires a person to obtain a license to own pepper spray. Current violation of these laws can result in up to two years in jail and the required concealed weapons permit can cost up to $100."
You can read the rest of the story HERE.
"House Bill 2145 boils down to a matter of increased self-defense options, especially for women," Rep. Ferguson said in prepared remarks. "By allowing Massachusetts' residents and non-residents, aged 18 or older, to carry self-defense spray as a protection against potential attackers, we as a Legislature will reaffirm our commitment to public safety in all circumstances."
We have a great selection of Keychain Pepper Sprays that are legal everywhere even in Massachusetts now.
Since 2005 Guardian Self-Defense & Security Products LLC has provided quality stun Self Defense Products and a wide variety of Home Security Products to over 45,000 consumers. We offer a full-line of premium self-defense weapons such as pepper spray, stun guns, tasers, pepper mace, personal alarms and other self-defense items.