Guardian Self Defense and Security Blog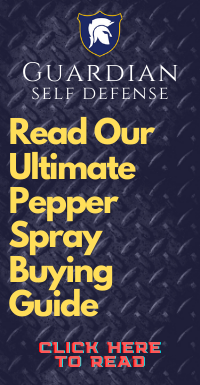 Pepper Spray Saved My Life
I recently received a letter from a customer that began like this, Pepper spray saved my mom's life. The letter was written by a man who had purchased some pepper spray for his mom a couple of years ago. He was writing to thank us for selling him the spray. When I get letters like this it really drives home the importance of what we do each day here at Guardian Self Defense Products.
It's very easy to get caught up in the daily grind and lose sight why we do business. She had just finished a long night shift and was headed to the car when she noticed a man who appeared to be watching her from a distance. It kind of "creeped her out" but there didn't appear to be any immediate danger. She got into the car and drove away.
A few minutes later she was pulling into her apartments parking garage. She'd walked from the garage to her apartment door a thousand times before with no problems. This night would be different. As she approached the apartment door a man grabbed her from behind. He placed his hand over her mouth and attempted to drag her away.
She turned and sprayed him in the face with pepper spray. The letter goes on to say that "without the pepper spray my mom would not be here today. Every day I cherish the time I have with her." The fact is we live in a dangerous world where attacks like this happen twice a minute in America. A top priority for each of us should be our personal defense and home security but unfortunately it's not.
Non-lethal self-defense weapons have some very real benefits that must be taken into account. 1. They take no special skills or training to use. 2. They are extremely effective and affordable. 3. They are non-lethal, so unlike a gun you won't have to worry about liability. Isn't it time you get serious about your personal defense?