Guardian Self Defense and Security Blog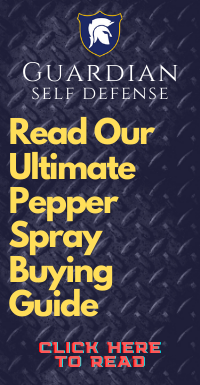 Sabre Stop Strap Pepper Spray-Product Review
http://www.guardian-self-defense.com/sabre-stop-strap-pepper-spray#.UcIASJyC_dQ">
click image for more details
Today we are doing a review of one of the most popular Sabre pepper sprays called the
Sabre Stop Strap.
It uses the famous Sabre red formula that contains 10% Oleoresin Capsicum measuring 2,000,000 Scoville Heat Units, producing .67% major capsaicinoids. Independent laboratory testing found SABRE RED to be 8% to 86% stronger than the competition. Sabre Red is used by NYPD and thousands of other law enforcement agencies nationwide. The Stop Strap technology prevents the use of the pepper spray against you should it be taken away. You place the strap safety device around your wrist and hold the unit in your hand. If the spray is separated from the wrist strap it will not work. This unit contains 25 shots up to 12 feet away. Like all Sabre pepper sprays the
Sabre Stop Strap
has a four year shelf life and it is made in tested in the USA. Pepper sprays are one of the most effective self-defense products in the world. The average about 90% effectiveness. Since 2005
Guardian Self-Defense & Security Products LLC
has provided effective personal alarm
Self Defense Products
) and a wide variety of
Home Security Products
to over 45,000 consumers. We offer a full-line of premium self-defense weapons such as pepper spray, stun guns, tasers, pepper mace, personal alarms and other self-defense items.