Guardian Self Defense and Security Blog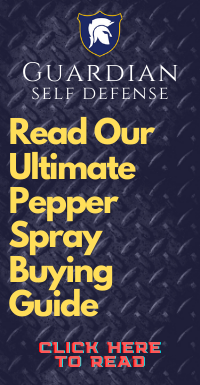 What Are The Best Personal Security Products?
There are thousands of personal security products available in the marketplace today. Many of them are the nonlethal self-defense items that are booming in popularity. A handgun continues to be the most popular lethal self-defense product. For reasons that we have discussed ad nauseam, many people do not want a lethal product in their house or on their person. It is just part of the reason why nonlethal self-defense products have become so popular.
Last week I saw one of my neighbors while we were gassing up at our local Costco store. She had a keychain in her hand and attached to it was a pepper spray. She reminded me that I had given it to her two years ago. She carries it with her wherever she goes.
She told me that her little keychain pepper spray made her feel safer and more in charge of her life, instilling a feeling of confidence.
The fact is that pepper spray, when used correctly, can be the "great equalizer"! The average male is some 5 inches taller and 30 pounds heavier than the average female. The difference in strength is typically significant as well. Pepper spray can flatten an assailant that is within the firing range almost instantly. Typical effects include difficulty breathing, inflammation of the mucus membranes, coughing and discharge, burning of the skin, involuntary shutting of the eyes and temporary blindness. The most valuable effect by far is the temporary blindness and involuntary closing of the eyes. Couple that with restricted breathing, inflammation and severe pain and you have an excellent personal security product capable of saving your life.
Our online store offers a big selection of colors, styles and price ranges from six of the most popular manufacturers of pepper sprays. We also carry many other non-lethal personal defense items.
When it comes to pepper spray or any defense item, it must be quickly accessible when you need it and you never know when you need it. So get in the habit of having it with you and ready wherever you go. Law enforcement officers carry pepper spray on their utility belt as their first line of self-defense. Why shouldn't you?