Guardian Self Defense and Security Blog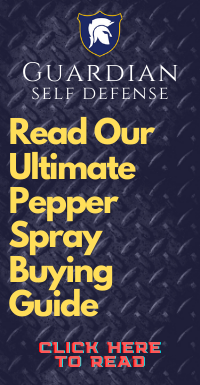 Why Not Carry A Non-Lethal Self Defense Weapon?
So what's the downside of carrying a non-lethal self defense weapon? For most of us taking a handgun outside of the home is not a wise option. Martial arts is an option for only a select few. The truth is, carrying a non-lethal self defense weapon has a huge upside and little or no downside. Crime rates are increasing in most places across the country. At the same time law enforcement resources are at all time lows. We have to do a better job of protecting ourselves and family. Robbery, assault, rape, home invasion and car jacking are being committed at alarming rapes by flash mobs across the nation. Ask yourself a question; What chance would you have to defend yourself from a flash mob attack, if you were empty handed? A self defense weapon, like pepper spray can stack the odds in your favor. Yesterday, a friend contacted us in search of pepper spray and a noise making alarm. Her daughter was assaulted and robbed in the parking lot of a Community College. Women who frequent a local outdoor exercise hot-spot have been on high alert, as a rash of robberies are reported. Just before dark female joggers report being approached by two thugs. The thugs demand things like cell phones and cash before running from the scene. An elderly man was found beaten and unconscious in his home, the apparent victim of a violent home invasion robbery. The attackers kicked in the front door, beat the empty handed man before making off with some high value electronics. A college co-ed was walking home from a bar when she sensed someone behind her. As she turned around he tackled her into a ditch on the side of the road. It was there that he raped her violently before fleeing into the darkness. Would
non-lethal self defense weapons
have saved these individuals from being victimized? No one can say. What we can say is that their chances would have improved substantially. Investing in a self defense weapon, then learning how to use it correctly is one of the most important things you can do for yourself. Combine that with heightened awareness and you become a much tougher target.