Guardian Self Defense and Security Blog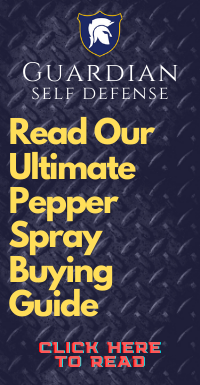 Comparing Two Pepper Guns-Product Reviews
In today's post we are doing a review of two of the most popular pepper guns that are available for nonlethal self-defense.
more info here
The first is the Kimber
Pepper Blaster II.
This is manufactured by the Kimber firearms company based in Switzerland. They claim it to be three times as effective as other pepper spray products. It shoots out two shots simultaneously at 90 miles an hour of oleoresin capsicum rated at 4 million SHUs. It travels 13 feet in 1/10 of second giving the target no time to react. It is not pressurized like an aerosol so there's no way can lose pressure over time. It can shoot from any angle and works in heat or cold soda allows you keep it in your car. Even on hot days. Because it is fired with such force. There is no chance of blowback, which is a common problem with other pepper sprays.
more info here
The second pepper gun is the
Mace Pepper Gun
that claims to be the most accurate nonlethal self-defense spray available. It shoots up to 25 feet away using a unique technology called bag in a can. It also can fire from any angle. Once the trigger is pressed a LED light helps illuminate the target. The cartridges hold enough OC for seven shots of 25 feet each and are replaceable. It is the perfect self-defense product for multiple assailants and/or dog attacks.
Guardian Self-Defense & Security Products LLC
is one of the largest most trusted online distributors of non-lethal self-defense items and surveillance equipment in the US. We specialize in premium pepper spray, mace, personal alarms, stun batons and more. We are "The Self Defense Product Experts"!