Guardian Self Defense and Security Blog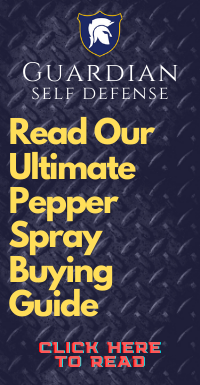 Why Do You Need Dog Attack Protection?
The Center for Disease Control (CDC) in Atlanta Georgia monitors dog bite and dog attack statistics in the United States. In 2012 the CDC noted that 4.5 million people are bitten by dogs every year with one out of every five, or close to 900,000, requiring medical attention for dog bite related injuries. Of that number requiring medical attention nearly half of those were children, most of them in the 5 to 9 year old category. The next most common category for dog attacks are adult males. And yes, you guessed it, letter carriers that work for the U.S.P.S. are attacked by dogs much more frequently than any group of adult males. So what does that mean for you? If you walk, jog or cycle outdoors you need dog attack protection pure and simple. If you have never been attacked by a dog, ask anyone who has been and they will tell you it is one of the most terrifying experiences you can go through. It leaves nightmares for decades. We also recommend that you learn some dog body language that will send you signals if you are in imminent danger.
DOG ATTACK PROTECTION
If you are in that category of outdoor enthusiasts,
dog attack protection
is easy to get with a quality dog pepper spray such as this one from Sabre brand maker of quality pepper sprays for over 35 years. This 1.8 ounce canister supplies you with 25 bursts up to 15 feet away and is potent enough to protect you against dog attacks from just about any breed allowing you to walk confidently with peace of mind. It comes with a handy belt clip that allows you to have fast, simple access. It is one of the best ways to provide you with dog attack protection when you are outdoors. Like the old American Express commercial used to say "don't leave home without it."