Guardian Self Defense and Security Blog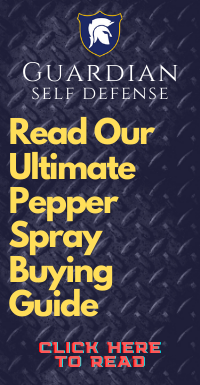 Why Mace Is The Best Alternative For Personal Protection
Everybody has heard of Mace! But most people confuse the term Mace with Mace brand pepper sprays. Today we are talking about Mace brand pepper sprays. They are the premier manufacturer of defensive sprays commonly called pepper sprays or OC sprays in the entire world. The OC stands for oleoresin capsicum which is the main ingredient in all pepper sprays.
Mace brand has perhaps the widest assortment of spray patterns and formulas in the marketplace today. They make pepper sprays for defense against human assailants, against dog attacks with dog pepper spray and defense against bear attacks with their famous bear pepper spray. Mace for self-protection is the best alternative when it comes to your personal safety.
One of their best products is a triple action pepper spray that customers love. This mace for self protection features the aforementioned oleoresin capsicum, a UV marking dye for assailant identification and a component of CS tear gas-that's the triple action!
Almost all of their sprays have a flip top safety cap that prevents accidental spraying and a contoured finger grip for easy aim. This particular pepper spray uses a stream spray pattern which means it ideal for outdoor use because it holds up better in windy conditions. It has an effective range of 12 feet and contains enough product for 20 half second bursts.
Another product that customers love is the Mace brand pepper gun that is the most accurate nonlethal self-defense spray available. It shoots out a continuous ballistic stream pattern up to 25 feet away. The Mace pepper gun uses "bag in a can" technology that allows you to replace the canister when it runs out. The gun itself has a trigger activated LED light that assists in hitting your target. It takes some getting used to hitting a target from 25 feet away, so each gun comes with one live pepper spray cartridge and a water cartridge for practicing.
Customers look to Mace for self-protection which is why it is the number one selling defensive spray in United States and perhaps the world. We have an excellent selection of Mace for self-protection products. When are you getting one?