Guardian Self Defense and Security Blog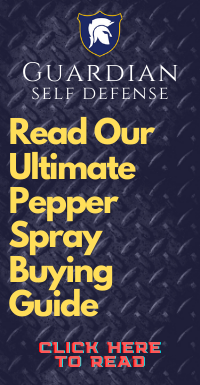 Is Pepper Spray To Stop Dog Attacks The Best Self Defense?
Are you one of the nearly 5,000,000 victims of a dog attack every year? Or maybe you are one of the 900,000 plus that requires hospitalization because of a dog bite? If you are, then you probably wished you had a pepper spray to stop dog attacks. Admittedly the largest category of dog bites and dog attacks happens in the home to children in the age range of 1 to 4, but a large number of Americans should never walk, jog or run outdoors without a pepper spray that is strong enough to stop dog attacks. Every year when thousands of new employees are hired by the United States Postal Service, they are issued pepper spray to stop dog attacks. What does that tell you? That is about as strong an endorsement as you can get!
This Sabre brand
pepper spray to stop dog attacks
has 25 short bursts up to 15 feet away that allows you to walk outdoors in confidence and peace of mind. It is a safe and humane way to protect yourself against the ravages of a dog attack or dog bite, which are so unpredictable. This pepper spray to stop dog attacks has a convenient clip to secure on your belt, pocket or purse for easy access. It has a four year shelf life-longer than competing brands. This small, lightweight, dependable product is an absolute necessity if you walk, jog or cycle outdoors. Sabre brand is one of the most highly respected manufacturers of defensive sprays in the world. For the last 35 years they have been manufacturing nonlethal self-defense sprays that have been used by law enforcement agencies the world over. Our online store carries Sabre brand, Fox, Streetwise, Mace and other brands of defensive sprays giving you the widest selection possible of law enforcement quality name brand pepper sprays that can be used against human assailants as well as dog and bear attacks.